Airports of New York 2023: Which Airport to Choose?
Which of the Airports of New York should you choose? For those looking to take a flight into the bustling city of New York, Choosing the right airport is essential in ensuring a comfortable and convenient travel experience. In this blog post, we discuss three primary airports located within NY's borders – their pros and cons – helping travelers select which one best suit their needs according to personal preference.
New York Airports
New York City is serviced by three major airports – JFK, LGA and EWR.
Selecting an airport should take into account factors such as distance to Manhattan, transportation options, amenities & services offered.
Budget considerations and personal preferences should be weighed when selecting the right NYC airport for travel.
New York's Major Airports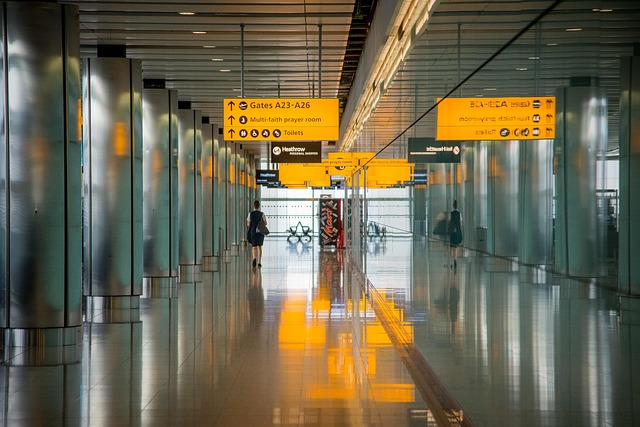 John F. Kennedy, LaGuardia and Newark Airport are three major airports that serve New York City's busiest airport system in the United States. JFK International Airport is known for its convenience of location to Manhattan while LGA is often praised for efficient arrival and departure times in nearby areas like Queens or Brooklyn. Finally, EWR Liberty International provides travelers with access to many domestic destinations as well as international routes from Kennedy Airport, making it a popular choice among those searching for the best airport experience out of NYC's trio of terminals serving all parts of The Big Apple.
John F. Kennedy International Airport (JFK)
John F. Kennedy International is an airport located in New York City, specifically in Queens County. It serves both international and domestic flights to a variety of destinations across the globe as well as being one of many airports within NYC that offer travelers easy access due to its transportation system – AirTrain connecting JFK Airport directly with two stations on the city's subway line (Howard Beach & Jamaica). This airfield also provides an abundance of flight options from over 100 airlines coming from more than 50 countries throughout the world along with complimentary Wi-Fi and various dining choices for passengers' convenience.
LaGuardia Airport (LGA)
LGA, commonly known as LaGuardia Airport, is one of the three airports that serve NYC. With its prime location in northern Queens, it's the closest airport to Manhattan and primarily facilitates domestic flights with some services going to Canada. Currently undergoing extensive renovations for an $8 billion modernization project, this airport will bring immense benefits when completed. An AirTrain has been included, which promises travelers a 30-minute journey time between LGA and The Big Apple. Despite current construction works at this premises, those planning travel on domestic routes can still rely on LaGuardia Airport as their preferred choice – making it remarkably convenient from New York City area origins or destinations.
Newark Liberty International Airport (EWR)
Situated in Newark, New Jersey, and situated only 12 miles away from downtown Manhattan is the renowned Newark Liberty International Airport (EWR), often called just 'Newark airport' or ' Newark International airport '. It operates with both domestic and international flights making it a feasible option for flyers. Although traveling by car to this location may be slightly faster than JFK, its proximity to Manhattan can hardly go unnoticed.
One downside of using EWR instead of another nearby gateway such as JFK or LGA would have to be higher transportation costs combined with limited public transit access options when compared similarly against these airports. To deal with that issue, there's the successful shuttle service known as "The Newark Airport Express" linking passengers from EWR all the way up Midtown Manhattan, stopping at Port Authority Bus Terminal, Grand Central Station and Bryant Park exclusively.
Travelers searching for cost effective airfares should find plenty appealing offers when opting into flying through newark liberty international because it might offer more reasonable pricing opportunities than those available on other platforms such as John F Kennedy or LaGuardia airports.
Comparing NYC Airports
When it comes to picking which of the three NYC airports will work best for you, it's important to thoroughly compare them in regards to their distance from Manhattan, transportation options available at each airport and services/amenities they offer. The following details should help narrow down your choice so that you can make a knowledgeable decision about which one is right for your needs.
We must consider how far away these air terminals are from NYC itself. Along with what modes of transport are accessible around each facility and finally identify all the amenities provided by any given airport option before making our ultimate selection as this will ensure we select the most suitable NY City Airport out of all the options.
Distance and Proximity to Manhattan
When planning a trip, one must take into account the distance and proximity of Manhattan to airports such as LaGuardia (LGA), John F. Kennedy International Airport (JFK) and Newark Liberty International Airport (EWR). LGA may be closest in terms of miles. Given rush hour traffic considerations combined with availability of public transportation, travel times can vary significantly from airport to destination. In order for travelers to find which option best fits their needs, they should consider factors like time spent getting around the city or what amenities are available at each location prior to making an informed decision based on overall proximity requirements.
Transportation Options
When deciding on the best airport option in NYC, transportation is a major factor to consider. All three airports offer various forms of travel such as public transit, taxis and rideshares. For example, JFK offers convenient access to both A & E subway lines via its AirTrain system while LaGuardia has an AirTrain connecting it directly with Manhattan city centre. Passengers at Newark Liberty International Airport are also able to benefit from NJ Transit commuter trains or Amtrak intercity service through the monorail called 'Airtrain Newark'. The cost and time taken for these transport options can differ greatly – taxi fares between JFK-Manhattan will usually be around $45-$60 compared with $80+ from Neward into town due to bridge tolls and other charges applied accordingly.
Amenities and Services
When deciding on an airport to fly from, it is important to bear in mind the amenities and services offered. The three main NYC airports – JFK, Newark Liberty International (EWR) and LaGuardia Airport (LGA) all provide varying levels of features which can impact your overall experience as a traveler.
JFK has arguably the most comprehensive selection of benefits available such as restaurants and Wi-Fi access for free whereas EWR provides similar items but they may not be quite so expansive compared to JFK's offerings. In contrast, Laguardia comes up short since renovations are still ongoing at this particular airport meaning fewer options when looking out for amenities or conveniences like dining areas or entertainment activities while you wait around during layovers etc. So its best advised that prior selecting any one of these locations, travelers should think about their personal needs like shopping opportunities relaxation facilities Wifi accessibility plus other factors concerning possible leisure pursuits before boarding onto a flight!
Flight Options at NYC Airports
The metropolitan area of New York City is home to numerous airports, including the New York International Airport. JFK (John F. Kennedy International Airport) and LGA (LaGuardia Airport), both situated in NYC, provide different types of flight services that address various requirements for travellers. Primarily dealing with international flights, John F Kennedy's hub caters more towards global travel while LaGuardia focuses on domestic routes inside the US boundaries. Below we will analyze what kind of options are available at each airport regarding air transportation matters.
International Flights
John F. Kennedy International Airport (JFK) and Newark International Airport (EWR) are both suited for global travelers, as they offer numerous international flight options. JFK is renowned for its wide selection of flights to various destinations all around the world whereas EWR also has a broad array of international services though maybe not quite as vast as those available at JFK.
In contrast, LaGuardia Airport's primary focus is on domestic routes which limits their range of worldwide connections making it an unsuitable option if looking into flying internationally. Hence why you would likely prefer either JFK or EWR should your travel plans include traveling abroad while LGA will be more suitable when traveling domestically within US boundaries only.
Domestic Flights
When flying within the United States, three NYC airports provide domestic flight options. JFK (John F Kennedy International Airport), EWR (Newark Liberty International) and LGA (LaGuardia Airport) are all available for travelers to choose from depending on their travel needs. For instance, when selecting an airport, factors such as proximity to your destination or personal preference can be considered to availability of flights at these locations. LaGuardia is usually the most popular option, but other places like JFK and Newark might offer better solutions according to individual requirements.
Navigating NYC Airports
Navigating airports in New York City can be difficult, especially for those who are new to the area. We will discuss how to transfer between terminals and go through security protocols at each of these bustling hubs so that visitors won't have any trouble navigating their way around while flying out of or into this city.
Terminal transfers might be necessary when travelling from one airport in New York City to another. Which ones you'll need depends on where exactly your flight is departing from and arriving at. To make sure there are no issues with transferring over during layovers, it's always best practice to understand all procedures before take off!
Terminal Transfers
Travelers can find quick and convenient transfers at JFK Airport and Newark Airport (EWR) with the use of their free AirTrain service. The transportation connects terminals to NYC Subway stations, including Howard Beach and Jamaica Stations, allowing passengers access beyond just the airport. In contrast, LaGuardia Airport (LGA) is more time consuming when it comes to traveling between terminals. There are no trams or a complimentary AirTrain on offer here, instead visitors must opt for either walking or taking shuttle buses, which may be particularly inconvenient for those who have difficulty moving around or lugging luggage around.
Security and Customs
When traveling through the three NYC airports, it is important to be aware of security and customs requirements as established by the TSA. To make this process go more smoothly, travellers can enroll in programs such as TSA PreCheck for faster processing times. In order to ensure a hassle-free experience at all NY airports, travelers should remember to have their required documents ready and adhere strictly to rules regarding carry-on items or checked luggage.
Alternative Airports Near NYC
Located near New York City, there are three main airports – JFK International Airport (JFK), LaGuardia Airport (LGA) and Newark Liberty International Airport (EWR). Travelers can find other options with two additional airports that provide a reduced range of flights. White Plains Westchester County's HPN airport or Stewart International in New York, which is SWF.
White Plains Westchester Airport (HPN)
Located in Westchester County, New York, White Plains Westchester Airport (HPN) serves the lower Hudson Valley region and sees over one million passengers each year. Although HPN may not have as wide a selection of destinations compared to JFK, LaGuardia or Newark Airports located in NYC. It still provides an option for travelers looking for a more tranquil airport experience. In terms of amenities and services at HPN, you will find car rental options along with ground transportation choices like food & beverage outlets too. If you're seeking a less chaotic atmosphere than can be found on the main airports serving New York City, consider HPt N, your alternative!
New York Stewart International Airport (SWF)
Stewart International Airport (SWF) is located in Orange County, New York and stands at around sixty miles from the heart of NYC. Although it caters to just over one million passengers annually with a selection of domestic and international flights that are smaller compared to other big airports like JFK, LGA or EWR serving the city. Travelers needing access will depend on buses, driving personally or private car services given its limited transportation amenities as opposed to those found closer to central NY. Despite this limitation, SWF could be an option for anyone seeking out fewer crowds while still having airport accessibility close by near Hudson Valley locations.
Tips for Choosing the Right NYC Airport
If you are looking for an affordable NYC airport, LaGuardia Airport is a great choice. It should be considered while taking into account other factors such as your travel purpose and personal preferences before making the final decision. Evaluating the pros and cons of each option helps you pick one that best fits your requirements from all available airports in New York City.
To budget-friendliness, it's important to evaluate how convenient or close by the airport will be to arrive at when picking which NY air hub suits most appropriately for yourself.
Budget Considerations
When making the decision of which airport is best for you, your budget can be a significant factor. Compared to JFK and LGA, Newark Liberty International Airport (EWR) usually offers lower airfares, but traveling there may become pricier due to tolls and less public transit alternatives. On the other hand, while going through either JFK or LGA could cost more in terms of plane tickets. Transportation costs are likely cheaper with additional options on how to get there from where you're staying.
Other details that should also go into play when thinking about this include fees related to parking spaces as well as what food/drinks will need purchasing at each respective location plus any Services one requires during their stay at said airport, taking these matters under consideration allows selecting the most fitting place within your given financial situation.
Travel Purpose and Preferences
When selecting the best airport for your trip, consider factors such as flight availability, amenities and terminal transfers. To your purpose of travel and personal preferences. For instance, LaGuardia Airport (LGA) is located close to Manhattan if you require a fast commute while JFK or EWR have extensive international flights options available which could be ideal for an overseas journey. By keeping all these details in mind when making your choice, you can ensure that you get the most suitable experience at the airport for what suits you best.
Conclusion
In conclusion, New York City provides travelers with a multitude of airport options to fulfill their individual needs. Through analyzing JFK, LGA and EWR's distance from Manhattan, means of transportation provided thereon along with the amenities available on-site and various flight selections they present. You can make an educated decision as per what meets your necessities best. Alternative airports like HPN & SWF offer more personalized airport experiences for those looking for something quieter than the major ones around the New York metropolitan area allowing anyone desiring to travel within that region a stress-free journey no matter where or how much budget is allocated to it. Be sure to also read our Washington DC airport Guide.
Frequently Asked Questions
What are the 3 major airports in NYC?
New York City is home to three major airports: Newark Airport, John F. Kennedy International and LaGuardia. All of these airport destinations are within a close proximity from Manhattan, while Newark-Liberty resides outside the city limits in New Jersey. Serving as United Airlines' main hub for air travel throughout NYC. JFK stands out as being located on Long Island – one of the five boroughs that make up New York – alongside Queens which houses LGA (the second largest among all). With each facility offering its own advantages and benefits for travelers both domestic and international destinations. It's no wonder why they've become so popular with everyone flying into or around NYC today!
Is it better to fly into JFK or LGA?
When it comes to flying into Airports of New York City, JFK Airport is the number one choice for ease. Traveling in or out by public transportation from JFK is more straightforward than LaGuardia, as well as providing a greater variety of flight times available.
How many airports are there in New York?
New York has three main commercial airports – Newark Airport (EWR), LaGuardia (LGA), and John F. Kennedy International (JFK). These all opened at different times and for different purposes.
Today, they continue to serve distinct roles.
Which airport is better to fly into New York?
When it comes to traveling in and out of New York, JFK Airport is the most popular option for many people. It has become a prime destination with plenty of flights available at various times throughout the day plus an excellent connection from public transport networks such as subway stops close by.
JFK makes planning trips stress-free due to its easy access. Travelers will have no difficulty getting there or departing on time when flying off again, making this airport an ideal choice for those looking for convenience and flexibility while traveling.
Which NYC airport is the closest to Manhattan?
Laguardia Airport is the airport that lies closest to Manhattan, with a distance of 8.5 miles. It's the closest air gateway to the city and offers the best of both worlds.