If you're looking for the best things to do in Baltimore, Maryland, look no further. Come explore the beauty and excitement of Baltimore, Maryland! From its iconic Inner Harbor to unique attractions throughout neighborhoods in town, it's easy to find something that suits your interests. Discover the best things in Baltimore when visiting this captivating USA city. From participating in a museum tour or checking out local restaurants to just simply wandering around enjoying the sights. It's sure to be an unforgettable experience as there is so much culture and history packed into one place!
Things to do in Baltimore, Maryland
Explore Baltimore's vibrant Inner Harbor, historic monuments and museums, lush parks and nature trails
Enjoy unique experiences like street art tours, food tastings & indoor skydiving
Discover a city of culture with unforgettable Baltimore attractions for all ages
1. Explore the Vibrant Baltimore Inner Harbor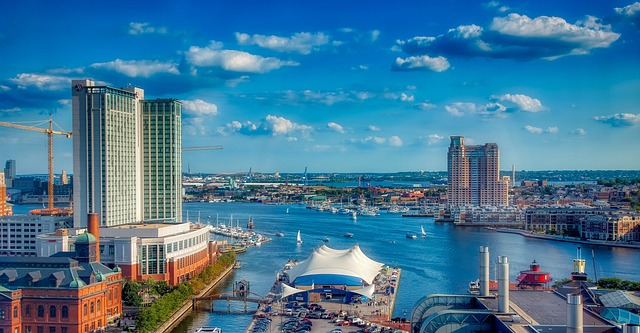 No trip to Charm City is complete without a visit to the Baltimore Inner Harbor, Baltimore's premier waterfront destination. Discover history with iconic ships docked at the harbor or enjoy a stunning boat tour and take in all of its sights and sounds from afar.
Home also to Maryland Science Center, Baltimore Museum of Art, National Aquarium, and Port Discovery Children's Museum, it offers no shortage of entertainment for adults looking for adventure as well as learning opportunities geared toward young visitors.
When you enter into this captivating attraction it'll feel like entering another world where sharks reside within giant tanks surrounded by trees frogs from Amazonia along with snapping turtles hailing originally from Australia, providing an exciting journey beneath levels connected through interactive pathways awaiting exploration!
For those wanting something closer to earth once done admiring wonders at bay, consider strolling around shops dotting area nearby coupled with culinary delights on offer when hunger strikes while ensuring that some snapshots are taken alongside water taxi rides making every moment count during your stay in Baltimore memorable one! Why not use Inner Harbor then as starting point off grand travel itinerary- sure thing worth checking out!
2. Learn History at Fort McHenry National Monument and Historic Shrine
Take a journey through American history by visiting Fort McHenry National Monument and Historic Shrine, where the national anthem Star-Spangled Banner originated. This highly important Maryland location defended Baltimore during the Battle of Baltimore – an event that spurred Francis Scott Key to compose this now iconic song.
Enjoy their enriching ranger programs, flag talks and reenactments! Visitors have expressed delight at appreciating stunning views of the harbor as well as gaining knowledge from knowledgeable rangers with these "flag talks".
Plus, there is Washington Monument nearby too, so make sure you explore both sites. Entrance fees are only $15 for everyone 16 years old or above – proving its cost-effective experience to discover what Fort Mchenry National Monument has got to offer!
3. See Art at American Visionary Art Museum
The American Visionary Art Museum is an unforgettable destination that celebrates the innovative works of self-taught artists and pays homage to creativity. This Baltimore Museum presents a collection of visually captivating art, including graffiti pieces, dioramas, films, embroidery projects, multimedia designs and sculptures for visitors to explore.
Guests are also invited to experience unique events such as the Kinetic Sculpture Race annual event or participate in classes offered by the establishment specifically designed for adults & children alike along with lectures given by professional visual artists and live performances happening throughout the building.
A visit here does not have heavy repercussions on your wallet due to its cheap admission fee ( $15.95) making it easily accessible while providing entertainment free of charge for those under 6 years old.
4. Unwind at Federal Hill Park
Located in the heart of Federal Hill, this National park offers a peaceful getaway for visitors to Baltimore who are looking to escape from the typical Baltimore attractions. Dating back centuries ago when it was used as mining grounds and strategically placed fort during the American Civil War.
Today Federal Hill Park includes playgrounds and picnic spots where you can admire stunning views of the skyline over lunch or read in tranquil seclusion. You won't find yourself far away from great eateries either, proximity to city park makes it easy to drop into one before returning here after your day exploring Baltimore city!
5. Admire Masterpieces at The Walters Art Museum
The Walters Art Museum is the perfect place to explore art. This free museum features a variety of works from around the world, including Greek, Roman and Egyptian masterpieces as well as those created during Medieval Europe's Renaissance and baroque periods along with 19th century classics from Monet or Rousseau.
On Saturdays and Sundays between 11am and 4pm family activities are available for people of all ages while guided tours given by docents provide insight on its remarkable collection can be booked any day of the week. Don't forget to drop in at their gift shop too before you leave where you'll find artisan-crafted keepsakes!
6. Get Hands-On at Maryland Science Center
Visitors of all ages can discover a wealth of fascinating facts at the Maryland Science Center, one of the oldest scientific institutions in Maryland. With discounted admission prices for children, seniors and groups, it's an economical way to learn about topics such as astronomy, paleontology or human anatomy.
The interactive museum offers activities like Newton's Alley where kids will enjoy conducting experiments. Dinosaur Mysteries provides dino digs that make learning exciting! There is even an IMAX theatre showing educational films on its massive screen, providing truly captivating experiences for visitors from across the globe.
7. Enjoy Nature at Druid Hill Park
Druid Hill Park, a 745-acre urban oasis with numerous outdoor attractions and activities, is the perfect escape from the hustle of city life. Take pleasure in observing local wildlife such as grey squirrels, possums, chipmunks or white-footed mice during your exploration of its luscious greenery and fragrant gardens.
There's plenty for families to enjoy here – whether that means visiting Maryland Zoo or simply taking some tranquil moments amidst nature's beauty on one of Druid Hill Park's trails. Spend an unforgettable day embracing all it has to offer!
8. Step Back in Time at B&O Railroad Museum
At the B&O Railroad Museum, visitors of all ages have a unique opportunity to discover Baltimore's industrial past. Housed in Mount Clare, where American railroad first began, this museum contains an impressive collection of locomotives and exhibits that tell the story behind railroading history.
Every weekend you can join a special train ride providing guests with an unforgettable experience through time. Come explore early engineering advancements and innovations as they've impacted transportation at the iconic B&O Railroad Museum!
9. Family Fun at Port Discovery Children's Museum
At the Port Discovery Children's Museum, you can spend a memorable day with your family. This interactive museum has plenty of attractions to offer such as the SkyClimber, artistic studios for art workshops and creative projects, musical exhibits that will get kids in rhythm and music lovers enthralled. Also, there is an area specifically designed for younger children called Tot Trails.
Filled with opportunities to have fun while learning something new at every turn. No matter what age group your child belongs too, each one will find something special here! Let them be creative or simply enjoy hours of laughter together- it's all available at this wonderful Baltimore hotspot!
This must visit destination promises entertainment mixed with imagination, which makes it perfect not only for families but those looking just to partake in some exceptional experiences within its walls.
10. Meet Exotic Animals at The Maryland Zoo in Baltimore
At the Maryland Zoo in Baltimore, guests can explore the wonders of wildlife. Home to a variety of creatures from all over the world including elephants, monkeys, tortoises and snakes, visitors have an opportunity to discover fascinating facts about their natural habitats and conservation efforts here too.
For those seeking something even more special, behind-the-scenes training experiences are available with exotic animals such as African penguins or rhinos. While Okapi fans also get some one-on-one time. Whether you're searching for fun family day out or want to try something new – there's never a dull moment at this incredible zoo!
11. Learn About African American History at The National Great Blacks In Wax Museum
At the National Great Blacks In Wax Museum, visitors have a chance to explore and discover African American history through its collection of lifelike wax figures. There are more than 150 sculptures on display, representing influential Black individuals throughout time as well as their significant contributions to America's culture.
Not only that, but guests can also take part in interesting activities such as educational programs or public events meant for appreciating the legacy left behind by famous African Americans over centuries past. This provides an unparalleled look into our country's exceptional heritage and those who made it possible with each figure carefully crafted with utmost attention to detail.
Visiting this incredible museum is both entertaining and meaningful at once, allowing people to reflect upon important figures while honoring them in every way imaginable! Through The National Great Blacks. In the Wax Museum, we get another glimpse into what makes up U.S.'s fascinating cultural landscape during times old and new alike.
12. Baltimore Skyline Views at Top of the World Observation Level
If you're looking for an awe-inspiring panorama of Baltimore, the Top of the World Observation Level is a must. You'll find this observation deck perched on floor 27 in the city's iconic World Trade Center building. From here visitors can admire breathtaking vistas encompassing not only the city center downtown Baltimore but its harbor and beyond!
A visit to Top of the world will offer unbeatable views along with many other perks such as: convenient location close to other interesting tourist attractions. Modest admission prices, plus memorable experiences that make it worthwhile. This captivating experience should be a top priority when visiting Baltimore! It is certainly one of the best things to do in Baltimore.
13. Catch a Game at Oriole Park at Camden Yards
A trip to the iconic Oriole Park at Camden Yards is a must for sports lovers and architecture enthusiasts when in Baltimore. Home of the famous Baltimore Orioles baseball team, it features an unforgettable experience on game days with its exquisite design.
The park also has Birdland Mural displays that can be enjoyed by visitors alongside tantalizing food options as well as souvenirs from their official store that you'd want to take home with you! On special occasions such as firework shows or MLB giveaways, going there could become even more memorable than ever before!
14. Discover Baltimore's Industrial Past at Baltimore Museum of Industry
Head to the Baltimore Museum of Industry for a step back in time and an exploration into the city's industrial roots. Discover interesting insights through interactive displays, activities and collections showcasing factories such as steel mills, machine shops and printworks that contribute to this heritage. Located conveniently on Key Highway with harbor views, it is definitely worth a visit during your stay in Baltimore! You will have fun learning about different aspects while you get closer look at how workers helped shape these industries over history.
15. Visit the Haunting Edgar Allan Poe House & Museum
Visitors to the Edgar Allan Poe House & Museum can take a unique journey into the world of one of America's most iconic writers. This National Historic Landmark is an erstwhile residence and offers visitors insight into his life through its well-preserved architecture, accompanied by knowledgeable docents.
The atmosphere alone makes this trip worthwhile as it helps paint a picture that immerses you in all things Edgar Allen Poe – from empty rooms in which he once lived, to exploring what was important during his lifetime, making for truly memorable experiences.
16. Marvel at the Historic Phoenix Shot Tower
Take a guided tour of the iconic Phoenix Shot Tower, once considered to be the tallest building in America. Dating back to 1828, this structure was used for creating musket shot balls and stands as an incredible reminder of technical innovation from that period. It is also connected with Charles Carroll of Carrollton (one Founding Father who still lived at that time) who laid down its cornerstone during construction in Baltimore's Old Shot Tower. This extraordinary site offers visitors a chance to witness history while appreciating how far our civilization has come since then!
17. Savor Local Flavors on a Food Tour
Visiting Baltimore provides an opportunity to savor the city's eclectic and scrumptious food scene. From classic crab dishes to creative fusion cuisine, every corner of this vibrant metropolis offers something special for hungry travelers. A must-have is a pit beef sandwich – roast beef sliced thin atop a pile of fresh onions slathered in mayonnaise – which has become one of the most beloved local delicacies. No trip would be complete without taking part in a food tour around town. Sampling all these delightful treats will surely make your visit even more memorable!
18. Stroll Through the Charming Fell's Point Neighborhood
Stroll through Fell's Point and revel in its historic buildings, vibrant street art, diverse shops, cafes and restaurants. Meander around the cobblestone streets to appreciate these century-old edifices that tell tales of the area's past.
Apart from taking in the lovely sights here, you can also indulge your taste buds with delectable offerings ranging from Broadway Market's scrumptious pierogi to Thames Street Oyster House's superb seafood dishes. A complete treat for any traveler seeking Baltimore's charm, a trip there is definitely not one to be missed!
19. Admire Street Art in Graffiti Alley
Graffiti Alley is an incredibly popular place for art enthusiasts and photographers who are captivated by its colourful artwork, found from the floor to the bins. This street artist's legal canvas located northwest of Penn Station in Baltimore offers a fascinating view into the urban arts community, with each visit offering something new to discover! Urban explorers would be remiss not to experience Graffiti Alley. There's always something creative or skilled on display that will leave visitors filled with wonderment and appreciation.
20. Connect with Nature at Cylburn Arboretum
Head to the Cylburn Arboretum for a peaceful break from the hustle and bustle of city life. Situated on 200 acres, this tranquil urban park provides an abundance of natural beauty where visitors can unwind among its gardens, trails and wildlife.
Whether you're seeking a leisurely stroll or want to enjoy some peace in nature with your family over a picnic, Cylburn is sure to satisfy any outdoor activity needs while reminding us all about the calming power that Mother Nature has waiting for us.
21. Get Inspired at George Peabody Library
For both bibliophiles and architecture admirers, a visit to the George Peabody Library is not something that can be missed. It houses around 300,000 volumes of knowledge ranging from religious books to historic texts and literary works, an unmissable treasure trove! Be amazed by its incredible design as you explore this magnificent library. It's sure to leave you with feelings of wonderment due to its breathtaking beauty. The array of topics featured in the collection includes: religion, history, literature and architecture – all adding up for an amazing experience!
22. Experience Indoor Skydiving at iFly
Do you want to add some thrilling adventure to your life? Then give indoor skydiving at iFly a try. You don't need experience or be of any particular age – whatever skill level, all can have this exciting experience while under the guidance and safety of certified professionals.
The cutting-edge vertical wind tunnels will simulate freefall without having to use parachutes or planes! So come fly indoors and bask in that adrenaline rush only experienced with an outdoor jump minus the risks associated with it. Come take off towards the clouds for a unique sky diving sensation from within iFLY's controlled environment where excitement awaits – so why not book now?
Summary
A trip to Baltimore, Maryland guarantees an unforgettable journey of exploration through its bustling National harbor fronts, captivating art museums and scenic parks. Get ready for a stay full of excitement as you discover why this city is such a popular tourist destination with its diverse culture and rich history! Uncover the best things to do in Baltimore that will bring your family together for endless fun-filled moments.
FAQ
Can you visit Baltimore without a car?
Visiting Baltimore without a car is possible – the city offers multiple forms of public transportation from the airport, such as subway and light rail systems, MARC train line and Amtrak. By utilizing these transportation options people can easily discover all that Baltimore has to offer without any need for private vehicles.
What are some must-visit attractions in Baltimore's Inner Harbor?
The Inner Harbor is a great destination for fun activities such as visiting the National Aquarium, exploring the Maryland Science Center and engaging in creative play at the Port Discovery Children's Museum. There are interactive exhibits to fascinate visitors of all ages along with educational programs that make learning enjoyable. Restaurants, stores and other entertainment options line this remarkable harbor district making it even more attractive for those seeking memorable experiences in Baltimore City. With so much on offer here, including an array of stimulating attractions, one can spend quality time during their visit and create lasting memories without ever having to leave the inner harbor area!
What can I expect to see at the American Visionary Art Museum?
Explore the original and vivacious artworks at American Visionary Art Museum, like graffiti pieces, dioramas, films embroidery works as well as multimedia presentations and sculptures!
Is the Maryland Zoo in Baltimore suitable for families?
The Maryland Zoo in Baltimore is the ideal spot for families to enjoy a day together, with lots of attractions and activities that kids will adore. Discover African animals at their Journey enclosure or explore the wilderness habitats of Maryland-based species. There are so many opportunities here to observe wildlife as well as educational programs being run by experts too! Plus, they have fun events taking place throughout each season and a carousel for younger children, perfect.
Can I experience indoor skydiving in Baltimore?
Experience the exhilarating free-fall sensations at iFly in Baltimore! Their high tech wind tunnels are built to simulate a safe, thrilling indoor skydiving experience.